THE AGE OF ADALINE
Reel Rating: 3.5 out of 5 Reels
MPAA Rating: PG-13 for a suggestive comment
Released in Theaters: April 24, 2015
Best for Ages: 13+
Genre: Romance, Drama, Fantasy
Runtime: 110 minutes
Directed by: Lee Toland Krieger
Studio: Lionsgate
Cast: Blake Lively, Harrison Ford, Amanda Crew, Michael Huisman

SYNOPSIS: Blake Lively plays a young woman who's born at the turn of the 20th century and rendered ageless after an accident. After many solitary years, she meets a man who complicates the eternal life she has settled into.
REVIEW: There is something to be said for a beautifully-filmed movie led by a stunning actress. But beautiful films with amazing actresses can still leave me wanting more – and "The Age of Adaline" left me wanting less modern-day San Francisco and more Adaline.
"The Age of Adaline" follows Adaline Bowman (Blake Lively), a young woman who is prevented from aging after a car crash leaves her genes in a locked state, in accordance with a theory that won't be discovered until the 2030s.
How do we know this? From the copious amounts of voice-overs that explain
backstory and give faux scientific reasons for why Bowman is locked in her nearimmortal
state. Surprisingly, the voice-over isn't annoying or even poorly done –
they weave it into the story the best they can – but it's still a bit out of place
among the storytelling.
The almost-immortal Adaline changes identities every ten years. Her latest
incarnation, Jenny, works in a library in San Francisco, where she meets Ellis Jones
(the sexy Michiel Huisman). Ellis is smitten and pursues her … and pursues her …
and pursues her, all very much against Adaline's will.
While this repeated pursuit ends with Adaline eventually enjoying a date with
him, can we please stop painting "chase women at whatever cost" as sexy?
Ignoring a woman's wishes when she says no – which Adaline says repeatedly – is
not sexy. Threatening to rescind a donation you made to her place of work –
which Ellis does – is not sexy. Getting her home address from her place of work –
which Adaline purposefully does not give him and is appalled when she finds him
waiting outside – is not sexy.
It doesn't matter that Adaline is turning him down because she doesn't want to
drag people into her immortal life. All that should matter is that she says no, and
he should respect that. Why is that so hard? They could have made the movie and
romance work with that angle instead of letting Ellis chase her until he breaks her
down.
At least we get a shot of Huisman post-shower. That's almost enough for me to
forgive Ellis Jones for his behavior towards Adaline at the beginning of their
relationship. Almost.
Adaline – er, Jenny – ends up agreeing to accompany Ellis back to his parents'
house for their 40th anniversary party. But surprise – Ellis' father, played by
Harrison Ford, used to know Adaline and almost asked her to marry him. Adaline
is trapped between her affection for Ellis (who, while he becomes sweet as the
movie progresses, doesn't initially deserve it) and her need to keep running.
I won't tell you which she chooses, because that would spoil the ending of the movie. I'm a reviewer, not Satan. But the movie ends up as a sweet story about a woman's choice between love and freedom and what those choices really mean.
THE DETAILS (May Contain Spoilers):
Sex/Nudity: Passionate kisses over the course of several decades. A few love scenes, but neither is graphic (ex. a couple in bed, embracing and hugging, with her bare shoulders and legs and his bare chest visible). A married couple kisses at their anniversary party.
Violence/Gore: The story revolves around a fateful car crash, in which a car careens off a bridge into the water.
Profanity: A few uses of "s--t."
Drugs/Alcohol: Adults drink socially at dinners, parties and receptions. On a date, Adaline and Ellis drink several glasses of wine.
Which Kids Will Like It? Kids aged 13 and older who like fantasy romance films.
Will Grownups Like It? A worthy installment in the fantasy romance genre, which ultimately encourages embracing love and following your heart.
JANE'S REEL RATING SYSTEM:
One Reel – Even the Force can't save it.
Two Reels – Coulda been a contender
Three Reels – Something to talk about.
Four Reels – You want the truth? Great flick!
Five Reels – Wow! The stuff dreams are made of.
Jane Boursaw is the film critic and editor-in-chief of Reel Life With Jane. Contact her at jboursaw@charter.net and check out the shop for fresh editorial content. Images in this review used courtesy of Lionsgate.
Back To Top
---
About the Author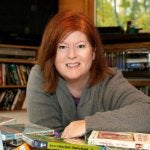 Jane Boursaw is the founder and editor-in-chief of Reel Life With Jane. Her credits include hundreds of print and online publications, including The New York Times, People Magazine, Variety, Moviefone, TV Squad and more.