STRANGE MAGIC
Reel Rating: 3 out of 5 Reels
MPAA Rating: PG for some action and scary images
Released in Theaters: Jan. 23, 2015
Best for Ages: 6+
Genre: Family, Animated, Musical
Runtime: 99 minutes
Directed by: Gary Rydstrom
Studio: Walt Disney Studios, Touchstone Pictures
Cast: Evan Rachel Wood, Alan Cumming, Kristin Chenoweth

SYNOPSIS: In a magical kingdom with a Dark Forest, goblins, elves, fairies and imps battle over a powerful love potion.

REVIEW: "Strange Magic" is the kind of film that looks great on paper. It's based on a story by George Lucas, who also executive produced. It features gorgeous visuals in a lovely forest populated by magical characters. And it includes a soundtrack of popular songs from the past six decades. But ... it doesn't quite translate as well onscreen. It's not a bad film, but it's missing that little spark that catapults it to greatness. Despite the title, it's missing the magic.

The story, based loosely on Shakespeare's "A Midsummer Night's Dream," opens on a fairy princess' doomed wedding day. Marianne (voiced by Evan Rachel Wood) is scheduled to marry her betrothed, Roland (Sam Palladio), but she catches him kissing another fairy, calls off the wedding, and transforms herself into an edgy, take-no-prisoners fairy with an emotional wall around her.

Meanwhile, on the border of the Fairy Kingdom is a field of primroses that serves as a border between the fairies and the Dark Forest, a grim place where the Bog King (Alan Cumming) helms a world of slugs, goblins, and other creatures. The Bog King is holding the Sugar Plum Fairy (Kristin Chenoweth) hostage, because he doesn't want her making her special love potion from the primroses. He's got his reasons.

Roland, who still hopes to wed Marianne (he's got his reasons, too), enlists help from Sunny (Elijah Kelley), an elf who's in love with Marianne's younger sister, Dawn (Meredith Anne Bull). Roland somehow convinces Sunny to sneak into the Dark Forest with the necessary primrose petal that will free Sugar Plum and allow her to make a love potion that will cause Marianne to fall in love with him again.

Of course, the plan goes awry and the Bog King ends up taking Dawn hostage -- but not before the love potion accidentally causes her to fall in love with him.

Although I appreciate the filmmakers' efforts to expose kids to great tunes like Beyonce's "Crazy in Love" and Elvis' "Can't Help Falling In Love With You," I think possibly there's just too much going on in this movie to work. And the music doesn't blend well with the scenes. It feels forced.

But I do love the beautiful visuals from Industrial Light & Magic, the singing (Chenoweth has one of the most beautiful voices on the planet), and the girl-power characters like Marianne, who stays true to her heart after seeing her betrothed cheat on her with another fairy. There's also a sweet surprise twist at the end.

I don't know that it's worth paying the bucks to see "Strange Magic" on the big screen, but it's worth checking out when it hits cable or one of the streaming services like Netflix or Amazon Instant Video.

THE DETAILS (May Contain Spoilers):

Sex/Nudity: Lots of kissing, including a groom who kisses a fairy other than his betrothed on his wedding day. There's also an accidental male-to-male kissing. Under the spell of the love potion, people fall in love with the first person they see.

Violence/Gore: A fairy is held hostage. The Bog King and his followers battle the fairy army. Some shoving and pushing, and swords are used occasionally. A female fairy transforms into a warrior.

Profanity: One "Son of a ...," although the phrase isn't completed.

Drugs/Alcohol: A love potion causes characters to fall in love with the first person they see.

Which Kids Will Like It? Kids 6 and older who like fairytale stories with lots of musical numbers.
Will Grownups Like It? "Strange Magic" is beautiful to look at, but there's not a lot of substance there.


Back To Top
---
About the Author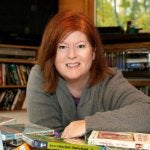 Jane Boursaw is the founder and editor-in-chief of Reel Life With Jane. Her credits include hundreds of print and online publications, including The New York Times, People Magazine, Variety, Moviefone, TV Squad and more.