PAUL BLART: MALL COP 2
Reel Rating: 3 out of 5 Reels
MPAA Rating: PG for some violence
Released in Theaters: April 17, 2015
Best for Ages: 9+
Genre: Family, Comedy
Runtime: 94 minutes
Directed by: Andy Fickman
Studio: Sony Pictures Releasing
Cast: Kevin James, Raini Rodriguez, Neal McDonough, Eduardo Verastequi

SYNOPSIS: After six years of keeping his New Jersey mall safe, Paul Blart has earned a well-deserved vacation.
He heads to Vegas with his teenage daughter before she heads off to college
But safety never takes a holiday and when duty calls, Blart answers.

REVIEW: I was pretty excited when I first heard about this sequel to director Steve Carr's 2009 runaway hit, "Paul Blart: Mall Cop,"
because I absolutely loved that movie. And while this second installment doesn't have that same magic of the first movie, it's still fun to see
Kevin James doing what he does best -- riding that Segway like a boss, connecting with his
daughter Maya (Riani Rodriguez), and of course, outsmarting the bad guys.

This time, the action takes place in Las Vegas, where Paul and Maya are visiting while he attends a security convention.
Word on the street is that he'll finally be recognized by his peers for his outstanding achievements of keeping that mall
safe in New Jersey six years ago.

Plus, he could really use the break. His wife left him (I would loved to have seen
Jayma Mays come back, but heard that she couldn't do it because of scheduling
conflicts with "Glee") and his mom was run over by a milk truck! Yes, there's even
a quick scene of this, which seemed oddly out of place in this comedy. You see it,
and you're like, wait, did that just happen?

But alas, the rumor is unfounded, and turns out Paul's security guard buddies
aren't there to see him after all. Someone else is giving the keynote speech. (I
mean, Paul would have known if he was giving the speech, right? I'm sure they
would have given him plenty of advance notice).

Meanwhile, a thieving art collector (Neal McDonough, who plays a really good
bad guy) is planning a heist that will make things interesting for Paul and his
colleagues.

"Paul Blart: Mall Cop 2" doesn't break any new ground. It relies heavily on James'
physical comedy, at which he excels in amazing ways, as well as the tried-and-true
plot of villains who need to be dealt with. Even though this movie isn't as good as
the first one, I still love watching Kevin James' comedy gold.

And as a mom who has not one, but two kids heading off to college in the fall, I so
relate to the heartwarming subplot of Paul figuring out how to handle Maya going
away to college in California. We'll get through it, Paul. Really, we will.

If there's a third movie, I envision Paul taking down some bad guys planning
something nefarious at Maya's college. And based on the box office, there's a
chance a third movie could happen (although I hope they come up with some new
plot twist - and bring back Jayma Mays!).

While "Furious 7" came in first at the box office with $29.1 million on its third
week out, "Paul Blart: Mall Cop 2" grabbed $23.7 million, which isn't bad. I mean,
it's hard for a chubby guy on a Segway to compete with Vin Diesel's ripped muscles and fast cars.
But then, I think that's part of Paul Blart's appeal. He's someone you might actually know and hang out with. We don't get to see someone like that too often on the big screen, and people relate to it.

THE DETAILS (May Contain Spoilers):

Sex/Nudity: A few references to sex. Some flirtations between Maya and a similarly-aged boy who works at the hotel.
Violence/Gore: Lots of physical comedy, sometimes involving stun guns, Tasers, shoving, falling, running into glass walls, and some gunfire. While it's clear that the villains are out to kill Paul and his security guard buddies, most of the violence is played for laughs. Maya and her friend are physically threatened and held hostage, although she has her dad's smarts for getting out of danger. A large bird attacks a man. An elderly woman is accidentally knocked to the floor. A character is briefly shown getting hit by a speeding vehicle, and it's later mentioned that she died as a result of the accident.
Profanity: Mild language includes "sweet mama!" and similar exclamations.
Drugs/Alcohol: Adults drink socially, including at a casino. Young people are shown drinking some type of beverage at a party.
Which Kids Will Like It? Kids aged 9 and older who liked the first "Paul Blart" movie. I love that even though Paul and Maya are at odds, it's clear they love each other, which is a good message for kids.
Will Grownups Like It? If you're in the mood for a silly comedy, "Paul Blart: Mall Cop 2" is worth a look.


Back To Top
---
About the Author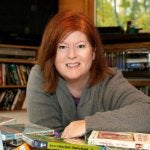 Jane Boursaw is the founder and editor-in-chief of Reel Life With Jane. Her credits include hundreds of print and online publications, including The New York Times, People Magazine, Variety, Moviefone, TV Squad and more.