10 Family Halloween Costume Ideas You'll Love
One of my favorite things about fall is Halloween. Ever since our daughter was born, we've loved dressing up in coordinating costumes as a family. We choose a theme every year and run with it. In the past few years, I've noticed that family Halloween costumes have become more popular. So, I thought I'd share with you not only some looks that our family has created, but also some that I've found around the web that are so much fun.

#1 Hunter and Deer

This was our very first look while our daughter was still in the NICU. We used clothes we had and added some fun fur to my dress and Addie's dyed onesie, and I made floral crowns with golden antlers. My husband wore hunting gear and voila – our costumes were finished.

#2 Peter Pan and Friends

This set of costumes is so much fun. I love the kids as Peter and the crocodile, with the dad as Hook and the mom as Wendy. All the costumes are simple and adorable, and could easily be whipped up from things in your closet.

#3 Bank Robbers

This is a quick costume set that can be pulled together at the last minute. This one won't take much effort, and you will still look put together as a family. Grab some shirts and hats at Target, some felt for the masks at Hobby Lobby, and you're ready to have fun.

#4 Scarecrow Family

Our family dressed as scarecrows in 2015 and had the best time. My husband and I already had the shirts, and I found overalls and a cute tee at Baby Gap. Then, I grabbed straw, felt and a bow for my daughter's hat, scrap fabric for patches (that I safety pinned on so we could use her clothes again), and burlap that I hot glued into hats.

#5 Wizard of Oz

This family is so adorable and I love how easy their costumes came together! They were really creative and used minimal things to put it together! It's amazing what some makeup and face paint can do.

#6 Winnie the Pooh and Friends

With the new Christopher Robin movie coming out, this family's costume is definitely appropriate for this Halloween. Talk about adorable.

#7 S'mores

This family makes the most adorable little s'mores. Incredibly creative and all you need are some boxes and some pillows! These costumes are sure to get a laugh.

#8 Goldilocks and the Three Bears

We had way too much fun with this costume set last year. I wore a black dress with a fur vest, my husband wore a hoodie with fur glued to it, our daughter wore a black onesie with a fur vest and bear shoes, and our dog Pearl was Goldilocks. Addie and I had our hair in little buns with fur ears pinned on, and I bought a doll hat for Pearl and hot glued curly hair inside. I couldn't stop laughing about these costumes.

#9 Lion and Lion Tamer


Talk about adorable! These family costumes are way too fun and must've been a blast to put together. Grab a hula hoop, some red jackets with black pants, a lion costume, and you've got yourself everything you need for the greatest show on Earth.

#10 Jurassic Park

If you're a fan of the Jurassic Park movies then you will love these family costumes. Just grab some clothes out of your closet and find a T-Rex costume for your child or children. You'll be sure to have everyone roaring with delight.
So, there you have it – my top 10 favorite family Halloween costume ideas. I hope it has given you some ideas for your own themed costumes.
Back To Top
---
About the Author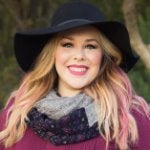 Stephanie Wolfe is a healthy living and essential oil educator who loves blogging about her medically fragile daughter, her natural lifestyle, Young Living essential oils, and fun weekend activities with her husband, daughter, and friends. Follow her at @mathewsbambina on Instagram or The Vintage Modern Wife on Facebook.