How to Create a Fall Activity Binder
Fall Activities for Kids
This time of the year is my family's favorite season. We enjoy every bit of it—from pumpkin everything to our family fall activity binder. We created the binder about three years ago and it contains lots of fall games and arts and crafts that are not only fun but also educational.
It has really come in handy on those days when we have to stay inside because two of our boys have seasonal asthma. When I first started the binder, I filled it with many ideas, but over the years I have minimized it to only the activities and games we actually do.
This year, I also added a fall bucket list. I used a mason jar and painted it a candy corn color. I wrote things like "visit a pumpkin patch" and "go to a fall festival" on craft sticks and put them inside the mason jar. We choose two sticks per week and the boys take turns choosing.
To make the binder:
Purchase (or re-purpose) a binder of your favorite color and either write or type out different activities and place them inside sheet protectors. I like to list all of the activities and games in alphabetical order so they are easier to find.
Many of the activities are for all ages, but some are "for babies" as my 9-year-old says because when you are nine, you're a big boy. Is nine-ager a word?
For my 18-month-old, I do simple activities like:
- pumpkin apple stamping (Made to be a Momma)
- a corn sensory tub (A Little Pinch of Perfect)
- hopping corn in a bottle (One Time Through)


For my "big boys" I do activities like:
-
construction paper pumpkins
(Classy Clutter)
- apple volcanoes (The Resourceful Mama)
- fluffy pumpkin slime (I Heart Arts n Crafts)
- pumpkin volcano (The Resourceful Mama)
- candy corn math (Step Into 2nd Grade)

Remember every moment can be used to teach. For example, when I have my 18-month-old help me put the corn kernels into the bottle for the hopping corn in a bottle, I have him count the kernels with me.

When I do the construction paper pumpkin with the older boys, I have my 6-year-old cut the construction paper in strips while I ask him to tell me the color of the paper, spell the color and count each strip as he is done cutting.

My 8-year-old gets the glue and pencils ready, while my "nine-ager" helps my 6-year-old with his writing. You can have the kid's write what they are thankful for on each strip, which helps with their writing skills as well.

Like Albert Einstein said, "play is the highest form of research." So, have lots of fun and create lots of memories while doing experiments, and other fall activities.
Back To Top
---
About the Author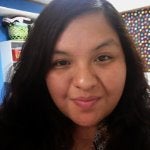 Gabriela is wife to husband, Aaron, and mom to four boys! She is a full-time mom, works as a substitute teacher, and owns her own cleaning business. She runs the Facebook group, I Only Make Boys, where she enjoys chronicling her boys' crazy adventures and sharing wisdom with other boymoms.