Tips for Staying Productive While Working and Teaching Kids at Home
With school being conducted from home, parents have fewer hours in the day to focus on their work-from-home jobs. It is necessary that some hours in the day are designated to homeschooling, which means parents have less time to dedicate to work. This article is for those parents looking to maximize their work time so they can enjoy family time without the guilt and stress of getting behind on job responsibilities.
Declutter Your Workspace
When you're a parent working from home—or a student learning from home, it helps to have a designated workspace with all the supplies you need to stay productive. But a cluttered workspace can be more distracting than beneficial. Your desk, work room, and even computer desktop should be organized and free of clutter to help you focus. More tips about organizing and decluttering your workspace can be found by clicking HERE.

Avoid Distractions
Your house itself is full of distractions and adding kids to the equation can make those distractions multiply. Phones, computers, social
media, video games, and television are just the tip of the iceberg when it comes to possible distractions in the house. Try to separate yourself from these potential distractions during designated work times. Also, help your kids avoid distractions during homeschooling sessions by keeping the distracting items away from whatever area of the house you have setup for homeschooling. You can learn more about workplace distractions HERE.

Don't Let Isolation Get to You
Most parents are used to a work setting surrounded by customers and other coworkers. Most children are used to being surrounded by teachers and classmates on a daily basis. Since these habits must be avoided, you and your children may struggle with the lack of sociability, and it may even affect your work or their schoolwork. To keep your kids and yourself well-balanced between work and socialization, take advantage of communication services such as Skype, Zoom, and Messenger Kids—Facebook's kid-friendly messenger app that features fun filters for your facetime conversations. More information about maintaining sociability when working and learning from home can be found HERE.

Keeping up with effective habits in your work and school life will help you feel more structured and productive while stuck at home. Stay in touch, stay organized, and stay productive!
Back To Top
---
About the Author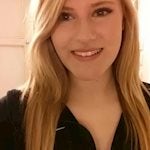 Rachel has a BA in Psychology from Texas State University and has been a resident of Waco for 24 years. She has a background in writing human resources-related blogs and articles. When she isn't writing, she enjoys reading and exploring what Waco and the surrounding areas have to offer.