Create Your Own Mini Porch Garden


Having a green thumb means having a natural talent for growing plants. While I don't necessarily have talent in this area, my kids seem to. We live in an apartment, so we don't have an actual place to start a garden. But last year, we found a discarded chair and one of my boys had an idea to turn it into a plant stand. So, I went to the store and bought sand paper and red paint and we fixed it up.

If you'd like to make your own plant stand, here's what you'll need:
- Chair
- Sand paper
- Paint (color of your choice)
- Paintbrush
- Paint tarp
- Drill
- Powered hand saw
- Pot (that fits into chair base)
- Seeds or plant (of your choice)
- Potting soil (brand of your choice)
- Pencil
Directions:
1. Lay your tarp down and put your chair on top of it.
2. Sand your chair to remove any old paint and get ride of uneven spots.
3. Get your brush ready. Mix your paint and start painting. We used Olympic Ruby Lips Paint+Primer. We chose Olympic because not only was it on sale for $7 at Lowe's, but it is also known for being durable and weather resistant.
4. Wait for the paint to dry and do a second coat if necessary.
5. Next, you will need to cut out a base for the pot in the seat of the chair. This is where the powered hand saw comes in. Set the pot on the seat and trace around it with a pencil. Then proceed to cut with the saw. I've used a powered hand saw before, but if you haven't, then ask for help. After you're done, clean off any excess saw dust from the chair.


We grew tomatoes last year and plan to do it again this year. You don't even need to buy seeds to grow your own veggies. You can use your kitchen scraps.

Here's how:
Fill up the pot halfway with soil. Slice up fresh tomatoes at about ¼ inch thickness. Place four tomato slices on top of the soil in a circle and add more soil on top. Do not add too much. You don't want to fully cover the tomatoes. Gently water your pot, leaving it just moist. Seeds should start to germinate in 7-14 days.

My children watered last year's plant every other day and we enjoyed tomatoes with ranch dressing as a snack throughout the summer!
Back To Top
---
About the Author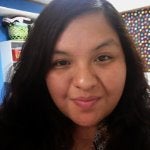 Gabriela is wife to husband, Aaron, and mom to four boys! She is a full-time mom, works as a substitute teacher, and owns her own cleaning business. She runs the Facebook group, I Only Make Boys, where she enjoys chronicling her boys' crazy adventures and sharing wisdom with other boymoms.