Your Mess, Your Guests
Many of us have an extremely annoying habit: the minute anyone walks into our home, we apologize for the condition of our home, namely being a mess. Why on earth would we do this?
For me personally, there might be some toys or an abandoned drinking glass on the kitchen counter, but nothing they might fall over or need me to address for their comfort. As a result, the comment makes guests feel as if I'm searching for a compliment (when I'm not) or asking for their approval (which, again, I'm not) about the state of my home.
Basically, all it does is call attention to what mess does exist. If we wouldn't say anything, I would bet that the glass or toys wouldn't even be noticed at all. When we have a family it is only natural to have little messes, and recognize those messes as evidence of joy and provision. No one is ever surprised to see signs of life in a house, with or without children. Unless we live in a design magazine no one needs to be reminded of that.
Our unnecessary apologies give the impression that we care more about our stuff than we do our guests. Instead of drawing attention to things, I could immediately engage in a warm greeting and conversation.
As a Professional Organizer, I feel an unspoken expectation that my home should always be perfect when a guest arrives. While this is a noble attempt at perfection and my profession is fuel for my 'I must do better' fire, we all do it. It is like a plague, this bizarre social convention, uttered in one breath, "Hello, nice to see you I'm sorry my home is a mess, please come in."
Well, I've had enough. Starting in 2015, no more apologizing because my stuff isn't perfect. No more apologizing for having a family who plays and enjoys being at home. If, on the rare occurrence, my home is honestly so messy as to not be welcoming to guests, I can simply greet them at the door with keys and wallet in hand and take them for a treat at Starbucks. If my home is everyday messy, I'm going to greet guests and welcome them into my home, making no mention of how it looks. It's my house, where I live and work, and it would be strange if it were perfectly tidy every time someone came to my door.
I care more about people than I do my things, and I'm going to let my words reflect that. Can you do that, too?
Have a Neat Day,
Jennifer Snyder, Certified Professional Organizer
Neat as a Pin Organizing Experts
www.neatasapin.net
Back To Top
---
About the Author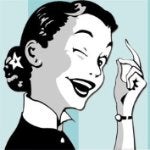 My name is Jennifer Snyder CPO, Chief Executive Organizer of Neat as a Pin Organizing Experts, a Waco-based company of Professional Organizers that is not only focused on organizing the clutter in your home or office but also clutter of the heart and mind.

I am happy that you are taking an interest in the benefits of getting your home and life organized. Living an organized life is for everyone!