Spinach-Ravioli Bake
By Kimi Coupe
Ingredients:
1 (6oz.) pkg. fresh baby spinach, washed if needed
1/3 c. refrigerated pesto sauce
1 (15 oz.) jar Alfredo sauce
1/4 c. chicken or vegetable broth
1 (25 oz.) pkg. frozen cheese-filled ravioli (do not thaw)
1 c. (4 oz.) shredded Italian six-cheese blend
optional garnishes after baking - paprika and chopped fresh basil
Directions:
Preheat oven to 375 degrees. Chop spinach and toss with pesto in a medium bowl.
Combine Alfredo sauce and broth. Spoon one third of the sauce mixture (about 1/2 c.) into a lightly greased 2.2 qt. or 11x7 " baking dish.
Top with half of the spinach mixture. Arrange half of the ravioli in a single layer over the spinach. Repeat layers once.
Top with remaining Alfredo sauce. Bake for 30 minutes. Remove from oven and sprinkle with shredded cheese. Return to oven for 5 minutes, or until hot and bubbly. Garnish if desired.
Submitted by Ann Doyle, Finalist in the Favorite Italian Recipe Contest
Back To Top
---
About the Author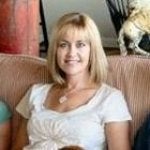 Kimi Coupe