Reducing Visual Clutter
Even when you have a place for everything in your home and everything is in its place, you still might feel like your home (or part of it) continues to appear cluttered. The article "Measuring visual clutter" in the Journal of Vision explains how this is possible and ways you can reduce visual clutter in your already tidy spaces.


Create one focal point in each room
. When you walk into a room, your eye should be instantly drawn to one object/area in the space and that object/area should be where you want attention to be drawn. In the bedroom, the focal point is most likely the bed. The table is most likely the focal point in a dining room.


Keep the floor clear
. Keep stray objects from impeding traffic patterns throughout a room. Also, remove small area rugs and replace them with one larger one, which will make the room/area feel more open because the eye sees a large unbroken space.


Avoid having too many conflicting patterns in the same room.
Patterns draw attention and if there are numerous patterns it's difficult to visually process all of them. For example if you have patterned wallpaper, do not have a different pattern on your curtains and another on the carpet, and yet another on every cushion on your couch.


Display only small groups of collections.
If you have a collection of items, keep what is on display small in number. Either keep the collection small or only display a portion of it each season (and be diligent about switching it out). This will allow individual objects to stand out because they're not hidden amongst other pieces. Some interior decorators suggest opting for larger single pieces because decorative accents that are smaller than a cantaloupe can make a room look cluttered.


Organize books by decorative elements.
It is much easier for the eye to look at straight lines and blocks of color than zigzag lines and bits of color here and there.


Make labels extremely legible.
When making labels to identify the contents of bins or binders, use one easy-to-read typeface. Ensure the labels are the same size and shape and aligned at the same height on the bin or binder. The same rule should apply to labels on file folders in your filing cabinet.
Neatly,

Jennifer Snyder, Certified Professional Organizer

Neat as a Pin Organizing Experts
Back To Top
---
About the Author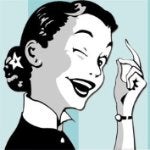 My name is Jennifer Snyder CPO, Chief Executive Organizer of Neat as a Pin Organizing Experts, a Waco-based company of Professional Organizers that is not only focused on organizing the clutter in your home or office but also clutter of the heart and mind.

I am happy that you are taking an interest in the benefits of getting your home and life organized. Living an organized life is for everyone!