Mexican Taco Casserole
By Kimi Coupe
Ingredients:
1 lb. ground beef
1 onion, chopped
1 green bell pepper, chopped
1 garlic clove, minced
1 T. chili powder
1 T. ground cumin
1 can diced tomatoes
1 (8oz.) can tomato sauce
1 can kidney beans
12 corn tortillas, whole or torn
2 c. Mexican blend grated cheese
Directions:
In a skillet over medium heat, saute the ground beef, onion, pepper and garlic until the beef is cooked, drain.
Add tomato sauce, tomatoes and spices. Simmer for 2 minutes.
Place a layer of 4 tortillas in the bottom of a greased 9x13 pan.
Place a layer of the beef mixture over the tortillas.
Add another layer of tortillas and top with beans.
Add a layer of tortillas and the remaining beef mixture.
Bake at 350 degrees for 30 minutes. Top with cheese and return to oven until melted.
Submitted by Sheri McGee - Finalist in the Favorite Mexican Recipe Contest
Back To Top
---
About the Author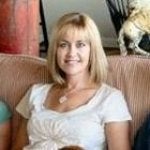 Kimi Coupe