Last Minute Mexican Brunch Casserole
By Kimi Coupe
Ingredients:
5 eggs
1 c. milk
3 flour tortillas
2 c. yellow corn tortilla chips
2 c. Monterey Jack and colby cheese
1 c. pico de gallo
crumbled bacon (may use sausage or chorizo)
1/2 c. sliced green onion
1 c. rice and beans (optional)
Directions:
Preheat oven to 350 degrees. Cook bacon, drain grease or use to saute onions, crumble bacon.
Break up chips and tear tortillas in small pieces.
Crack eggs into a bowl and stir together with milk.
Put rice and beans (if using) and bacon in a lightly greased 2.7 qt. deep dish.
Top with a layer of cheese, followed with a layer of chips and tortillas.
Add a layer of pico de gallo and onions. Repeat layers adding remaining cheese.
Pour the egg and milk mixture over the top of the casserole.
Bake for 25-30 minutes.
Submitted by Tashia Chaderton, finalist in the Favorite Mexican Recipe Contest
Back To Top
---
About the Author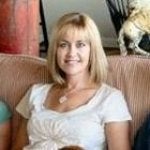 Kimi Coupe