King Ranch Chicken Casserole
By Kimi Coupe
Ingredients:
2 c. chicken, deboned, boiled and cubed
1 (10.5 oz.) cream of mushroom soup
1 (10.5 oz.) cream of chicken soup
1 (10 oz.) can Rotel tomatoes with green chilies, drained
1 medium onion, diced and sauteed
1/2 c. chicken broth
1 t. salt
1 t. black pepper
2 c. sharp cheddar cheese, shredded
12 corn tortillas, torn into small pieces
Directions:
Combine all ingredients except cheese and tortillas. Grease a 9x13 pan.
Layer 1/3 of the chicken mixture, 1/3 of the tortilla pieces and 1/3 of the cheese. Repeat this step two more times.
Cover with heavy duty foil. Freeze until ready to eat, if desired.
Preheat oven to 325 degrees. If thawed, bake for 1 hour. If frozen, bake for 1-1/2 hours.
Recipe submitted by Craig LaCoss - Finalist in the Make Ahead and Freeze Recipe Contest
Back To Top
---
About the Author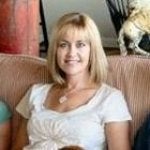 Kimi Coupe