Gifting and Re-gifting
Admit it, we all do it sometime, some more than others but we all do it, Re-gifting. It is when we receive a gift that does not suit our taste or needs and we give it to as a gift to someone else. It can be a resourceful way to meet our annual gift requirements and it can also be a source of embarrassment if not managed properly.
Here is a perfect example, my sister bought a necklace as a gift for an aunt. A year or so later, my sister receives the exact same necklace as a gift from my grandmother. Imagine her surprise! The gift had been given then re-gifted at least three more times, unfortunately the path of the gift had not been well documented. Documenting where the gift originates is the key to preventing an embarrassing situation. The best way to do that is to keep all "Giftables" in one place along with a small post-it pad and pen so you can document who it came from and when.
In the example situation above, if one of the re-gifters had made such a documentation, the necklace could have easily been given to someone on another side of the family or a friend at church. Also, when re-gifting, make sure that what you give is in pristine, like new condition. If it has been stored in a box for several years and was crushed under the weight of other boxes, this is not a good candidate for re-gifting.
In addition to reusing gifts themselves, we also reuse gift bags and tissue paper proudly and liberally. There are a few key guidelines to re-using wrapping materials. We wrap gifts to make them look nice, right? We refrain from reusing wrapping paper because once it is removed it is wrinkled and torn, why would we want to use a gift bag in similar condition similar condition simply because it has handles? If a bag is wrinkled – this includes having been folded in a way other than the natural folds – and especially if it is torn, it should be discarded. Never-ever reuse tissue paper. EVER!
When storing gift bags, hang them if possible and if they have to be stored flat make sure not to fold them. Gift bags are expensive and large ones especially so. Please do not fold those large bags as the bag will then lean to the left. You certainly don't want to be person that brought the leaning bag to the baby shower or office Christmas party.
It is great to be environmentally conscious in our gift-giving, just remember that the whole reason for gift wrap is a lovely presentation – so make sure that Lovely stays in the presentation!
Have a Neat day!
Jennifer Snyder
Neat as a Pin Organizing Experts
www.neatasapin.net
254.715.3888
jennifer@neatasapin.net
Back To Top
---
About the Author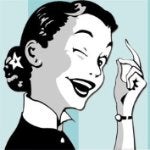 My name is Jennifer Snyder CPO, Chief Executive Organizer of Neat as a Pin Organizing Experts, a Waco-based company of Professional Organizers that is not only focused on organizing the clutter in your home or office but also clutter of the heart and mind.

I am happy that you are taking an interest in the benefits of getting your home and life organized. Living an organized life is for everyone!