Electronics Clutter
In my classes I teach people how to keep computer files organized but what I am talking about today, is all of the little items that we are instructed to keep that comes with new electronics purchases. Rare is the home I visit that does not have a closet totally devoted to empty computer and electronics boxes – once even having a client rent a storage unit to store the TV box just in case she needed it.
We are given information from a variety of sources (add me to the list) of what to keep and what to save. Most of which, is intended to make life easier for the entity providing the information. Consider this, if it is clearly written on each side of a computer box to Save This Box! You think you need to save it. By saving the box, you are making any returns easier (and cheaper) for the manufacturer. Save your boxes between fourteen and thirty days. After that, any malfunction issues will have presented themselves. After that time, a local repairman would most likely be consulted anyway.
Once you are ready to dispose of the actual box, cut off the serial number sticker and any manufacturer contact information. These should be stored with the owner's manual and warranty information. This can be by either stapling or placing together in a sheet protector or Ziploc bag. If you use the Ziploc bag, you can place the wires in there as well, just be sure to use a labeler to label the bag and the contents. Make sure that chargers that are used regularly are left out in a place where they can be charged in the same place every day.
Parts and pieces for items that would be seldom used should be stored away but properly labeled. Again, a Ziploc bag or even square Gladware boxes are ideal. I prefer the Gladware boxes because they can easily be stacked on a shelf. If the labels are on the sides, then you know exactly which box contains the spare parts to your dishwasher.
Before trying to take control over you wires and electronics accessories, go through them and identify the parent part…then label them. Any for which you are unsure, place in a separate container. Keep the container for six months and if you haven't tried to locate one of those cords, discard the entire thing. Replacing a lost cord cost far less than the emotional cost of worrying about what to do with them.
Have a Neat day!
Jennifer Snyder
Neat as a Pin Organizing Experts

www.neatasapin.net
Back To Top
---
About the Author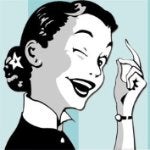 My name is Jennifer Snyder CPO, Chief Executive Organizer of Neat as a Pin Organizing Experts, a Waco-based company of Professional Organizers that is not only focused on organizing the clutter in your home or office but also clutter of the heart and mind.

I am happy that you are taking an interest in the benefits of getting your home and life organized. Living an organized life is for everyone!