DESPICABLE ME 2
Reel Rating: 4.5 out of 5 Reels
MPAA Rating: PG for rude humor and mild action
Released in Theaters: July 3, 2013
Genre: Sequel, Animation, Comedy
Runtime: 98 minutes
Directed By: Pierre Coffin and Chris Renaud
Cast: Steve Carell, Kristen Wiig, Russell Brand, Ken Jeong, Miranda Cosgrove
The story brings us back to the home of Gru, now a former master villain and presently a doting dad to his three adopted girls – Margo, Edith, and Agnes. He's enjoying his life, sidestepping his neighbor's efforts to set him up on various dates, and he's even converted his underground villainous factory into a ... jelly plant?
Just when he thought he was out, the Anti-Villain League pulls him back into the spy world to help expose an unknown villain who has stolen a top secret serum that can transform any living creature into a killing machine. He's kidnapped by Agent Lucy Wilde and then ultimately has to work with her to find the villain while still trying to be a parent and slow down the teenage hormone factory between Margo and Antonio, a handsome young boy she meets at the mall where Gru is working undercover.
I rather enjoyed this film. The accent Steve Carell uses to voice Gru just works to bring that character alive. And while the film leans more toward the cutesy and romantic versus the action-destruction of the first one, it's still charming and fun.
Also, I just can't get enough of those minions! Can you? They're short and yellow (which oddly reminds me of my Asian family – ha. It's okay, I'm allowed to say that. ) and oh so very cute. I just want to pick up a handful and hug them, and who doesn't want free labor that is happy to clean your house? Where do I sign up?!
Back To Top
---
About the Author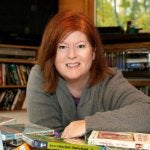 Jane Boursaw is the founder and editor-in-chief of Reel Life With Jane. Her credits include hundreds of print and online publications, including The New York Times, People Magazine, Variety, Moviefone, TV Squad and more.