Chicken Enchilada Casserole
By Kimi Coupe
Ingredients:
1 pkg. Tyson frozen pre-cooked chicken
1 can cream of chicken soup
1 can cream of mushroom soup
1 can enchilada sauce
4 c. Mexican blend shredded cheese
1 can Rotel
1 t. ground cumin
1 t. garlic salt
1/2 t. ground coriander
1 bag tortilla chips
Directions:
Preheat oven to 325 degrees. Grease a casserole dish and set aside.
Warm chicken in the microwave or in a skillet according to package instructions.
In a large sauce pan combine soups, Rotel, enchilada sauce, and spices.
Chop the chicken into small pieces. Add to the sauce pan and bring mixture to a boil. Reduce heat.
Put a layer of crushed chips in the casserole dish.
Add a layer of the chicken mixture followed by a layer of cheese (2 c.)
Repeat the layers ending with cheese. Bake for 15-20 minutes or until the cheese is melted.
Submitted by Mindy Martin, finalist in the Favorite Mexican Recipe Contest
Back To Top
---
About the Author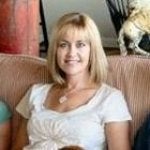 Kimi Coupe