Cashing In on Your Clutter
We pay good money for our stuff and that price tag whether a memory or still attached, causes us to waffle on whether or not to let something go. Add to the debate the promise of otherwise inexpensive items becoming valuable collectors items (Did someone say Beanie Babies?) and we end up drowning in decisions about which we just can't seem to make.
As you well know, I am a big fan of conscious sharing – passing on unwanted items to those who cannot afford or otherwise acquire them. Then there are those people who would prefer to sell things. If you want to sell your items, here is how to do it well.
The key is to create a small staging area in your home for items to be sold, whether online, in a yard sale or consignment shop. The staging area gets the items out of your living space so you can feel the benefit of purging without the junk sitting around in plain sight. The staging area should be kept small because the idea is to move it out fast. If you have a huge storage area (like a garage), you will end up with a permanent storage area, thus defeating the whole purpose of purging.
Give yourself a "sell by" date, which could be a date on the calendar for the yard sale or a date for which items should be sold online. Hold yourself firmly to this date so that the stuff doesn't become "invisible clutter" that you no longer see simply because it has been there so long.
A month to six weeks is the longest it should be there.
Finally, be realistic about what is valuable. Look at Ebay to see what people are paying for such an item, if at all. You may have paid $100 fifteen years ago for a country blue and mauve wreath made out of wood with stuffed bunnies on it, but that does not mean there is a demand for it now. By all means, please do not try to hold on to it until it comes back in style.
It feels great to let unwanted items leave your space. If you can make a little cash in the process it might help motivate you to get rid of more, which to me is a good thing.
Neatly,
Jennifer Snyder, Certified Professional Organizer
Neat as a Pin Organizing Experts
www.neatasapin.net
Back To Top
---
About the Author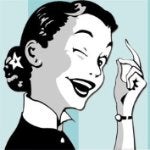 My name is Jennifer Snyder CPO, Chief Executive Organizer of Neat as a Pin Organizing Experts, a Waco-based company of Professional Organizers that is not only focused on organizing the clutter in your home or office but also clutter of the heart and mind.

I am happy that you are taking an interest in the benefits of getting your home and life organized. Living an organized life is for everyone!